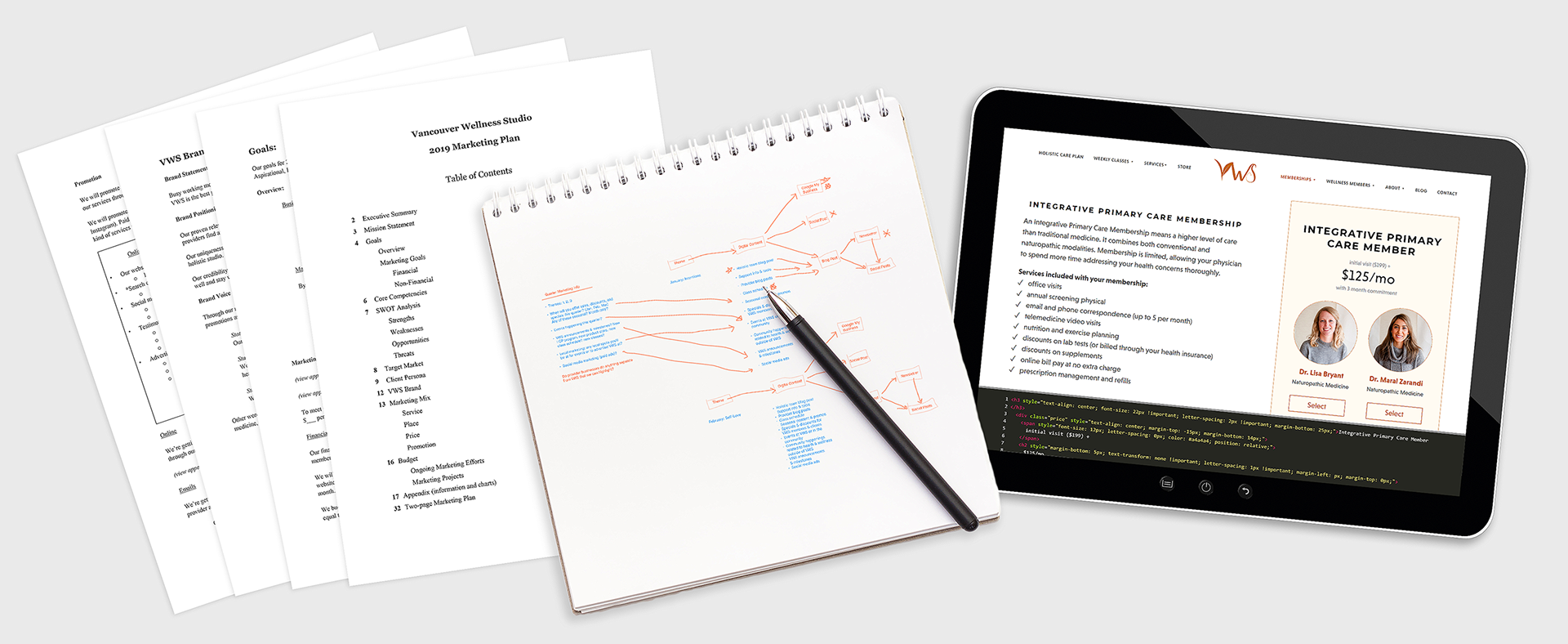 Vancouver Wellness Studio's marketing campaign focus is to make their potential patient experience easy, and shift their brand voice for patient empathy and SEO. VWS patients want to feel supported and heard while working with their healthcare team toward healing. It is the number one reason they seek out holistic comprehensive healthcare over tradition medical healthcare, which is a strength and opportunity for VWS.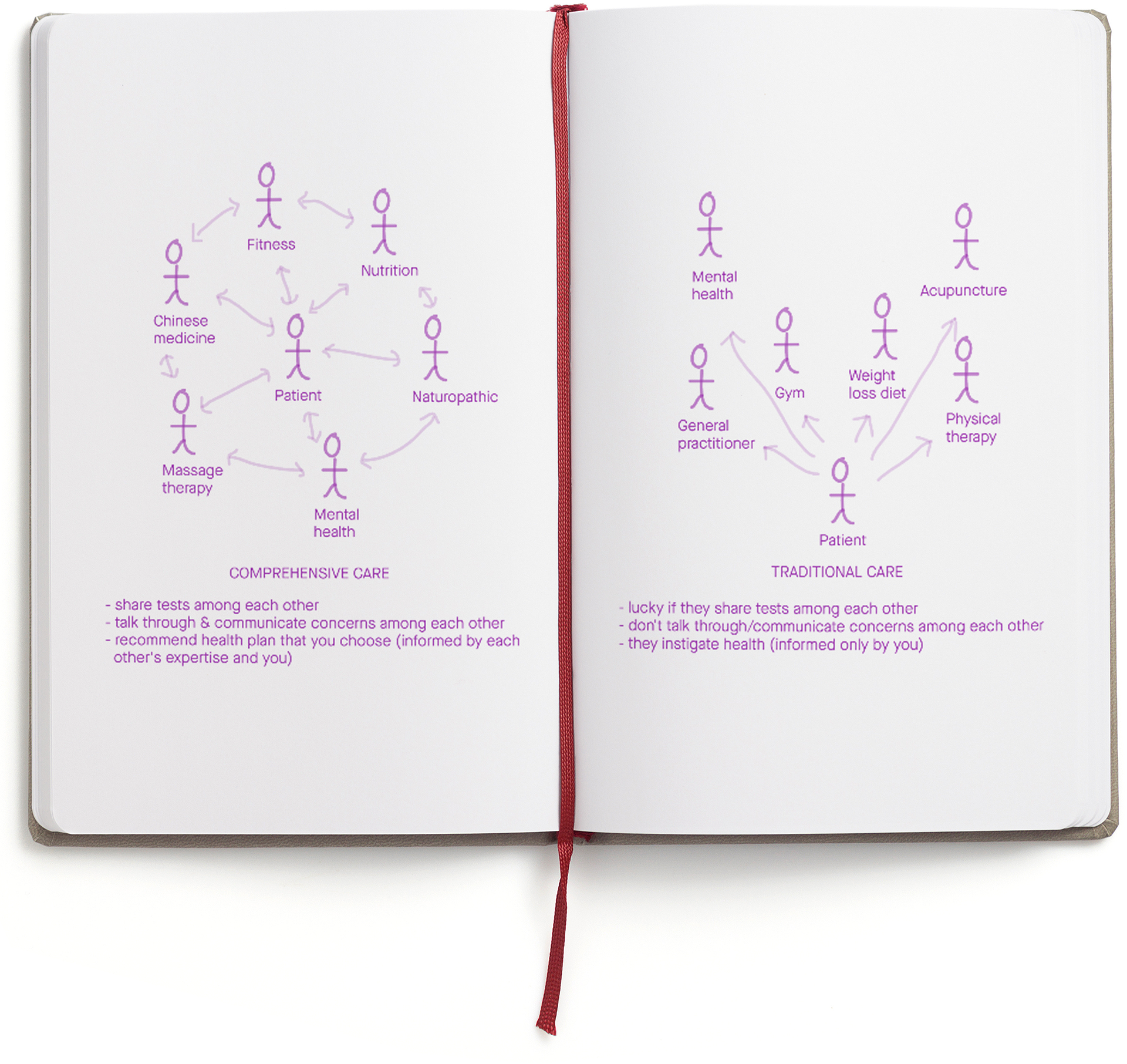 Through a SWOT analysis we learned VWS' website was not intuitive to client wants and needs, and marketing language/writing styles were business-centered. We recommended:
a) rolling out a new sitemap with improved basic page schema to better connect new patients with VWS services and for easier navigation and scheduling, and
b) a brand voice change to patient-centered language, which better empathizes with potential patients, reflects the practitioner approach toward their patients, improves organic SEO, and increases traffic and conversions.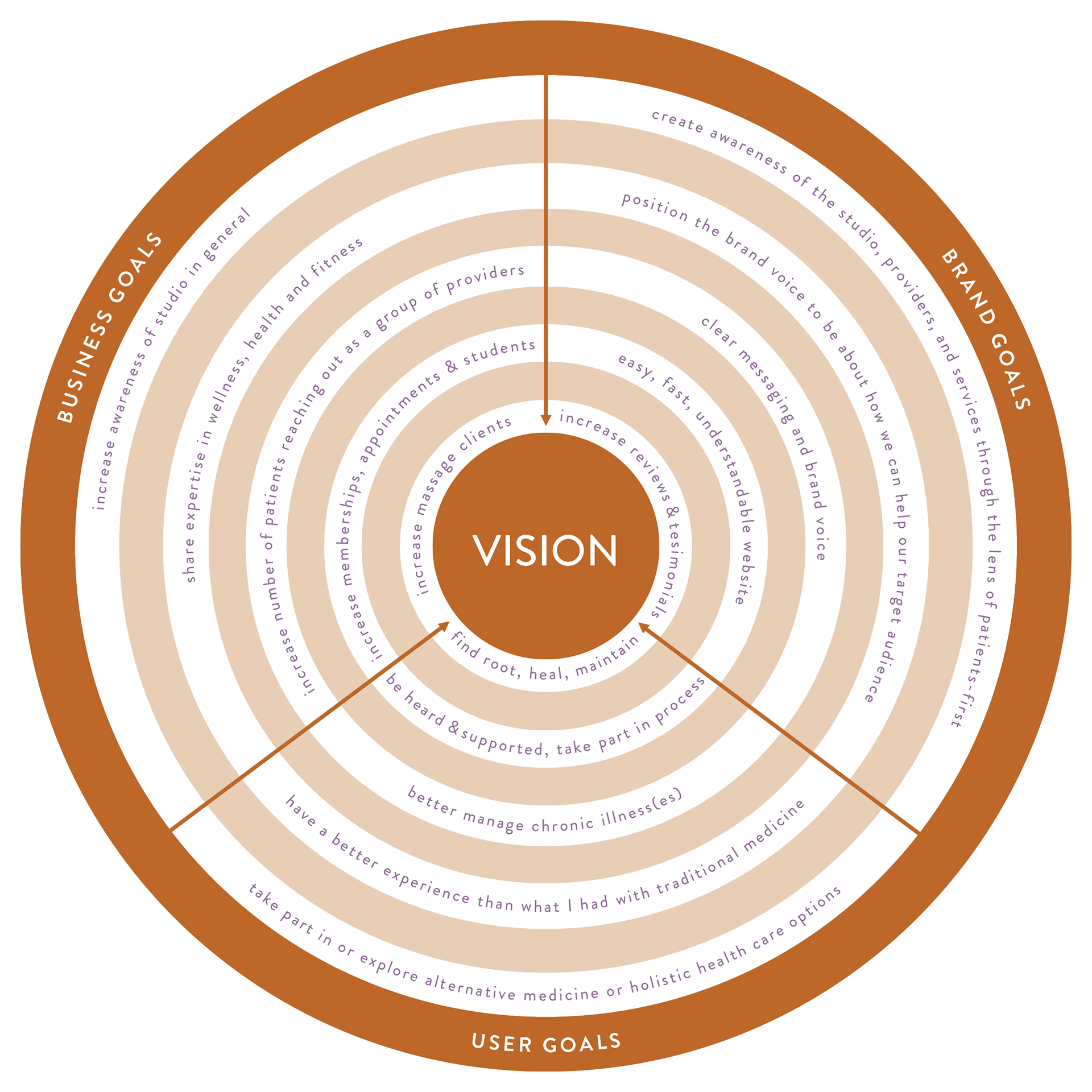 Our goals to measure success within the marketing campaign align with VWS' vision for their patients, business and brand. Two of these goals we tracked throughout the year include:
VWS business goals:
•  increase memberships
•  increase number of patients reaching out to VWS as a group of providers, rather than individually
Simpatico by Designs SMART marketing goals:
•  reach 5 new memberships every month
•  reach 5 provider group signups (Holistic Care Plan) every month
Marketing Campaign
Patient-centered Brand Voice
Benchmark: Previous brand voice
- Business-centered brand voice
- Content language centered around explaining who the studio and practitioners are and how they can help.
"Vancouver Wellness Studio is a unique place for whole-person healthcare in Vancouver, Washington. We are a dynamic team of holistic health professionals who work together to provide quality, cohesive care for the mind, body, and spirit.
We are a STUDIO because at VWS we believe that creativity, art, movement, and gathering as a group are all integral pieces to the wellness puzzle. So, we made a space for that. We hope you will come to be inspired to heal, create, and thrive."
- Website main navigation is About, Studio, Our Blog, Contact, Membership, Gift Cards.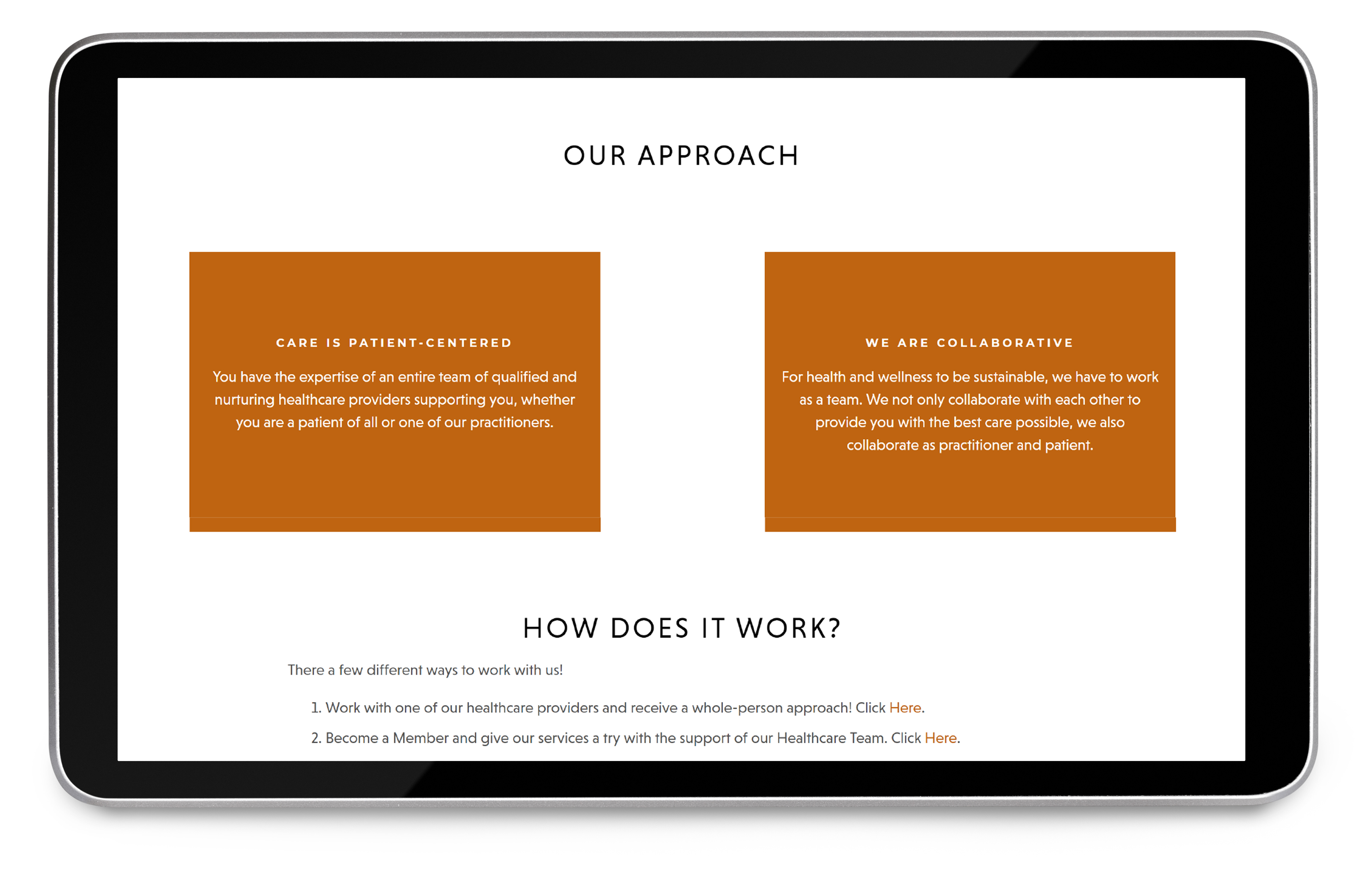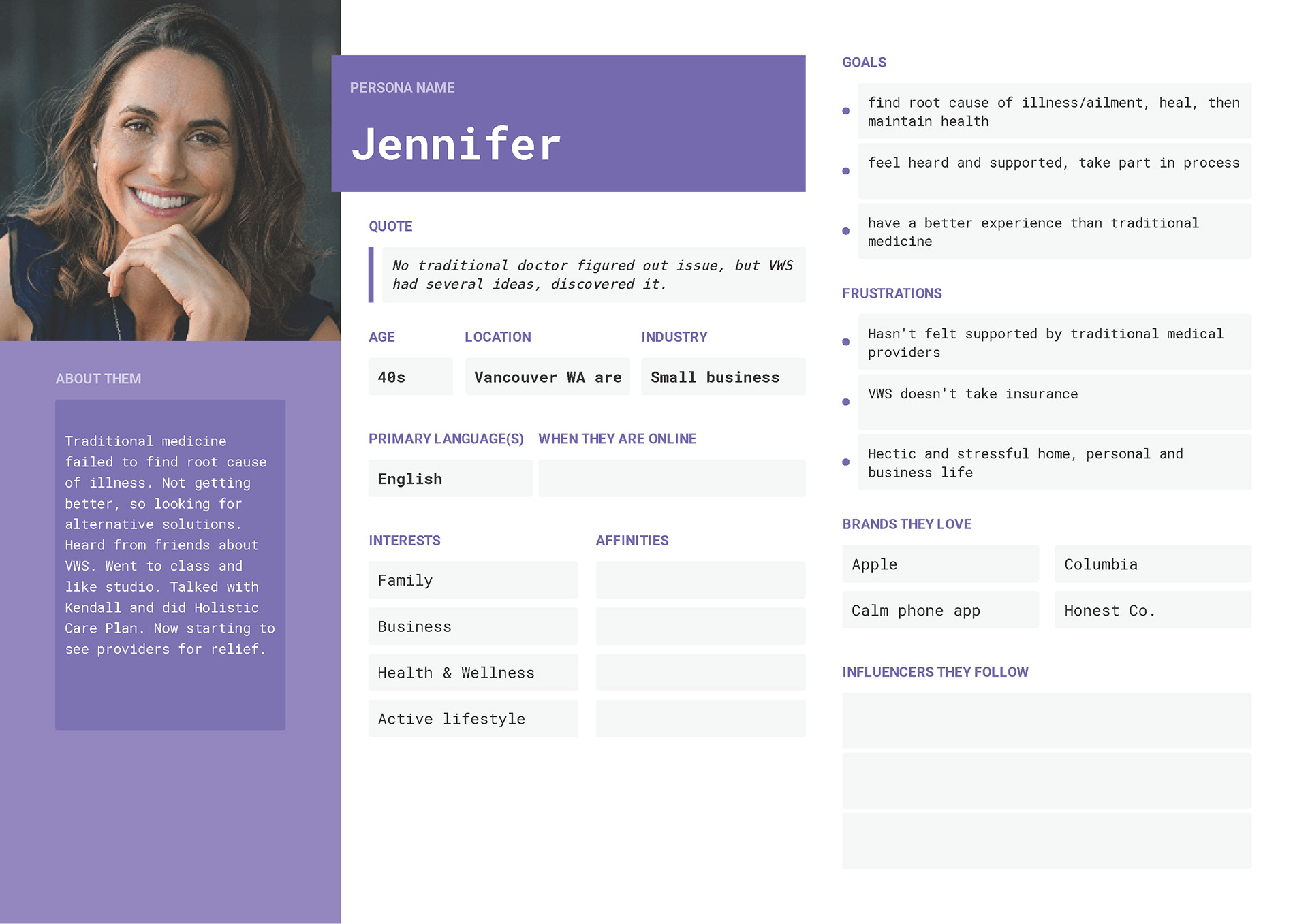 Marketing Plan: Client persona
We dug into the ideal client VWS wanted to have and wrote out a persona to reference as we planned out the new site map, etc.
Used to do-it-all Jennifer
She is a tech-savvy female in her 40s who is financially stable as a small business owner and noticing health conditions that need attention and/or has extra stress in her life as a parent.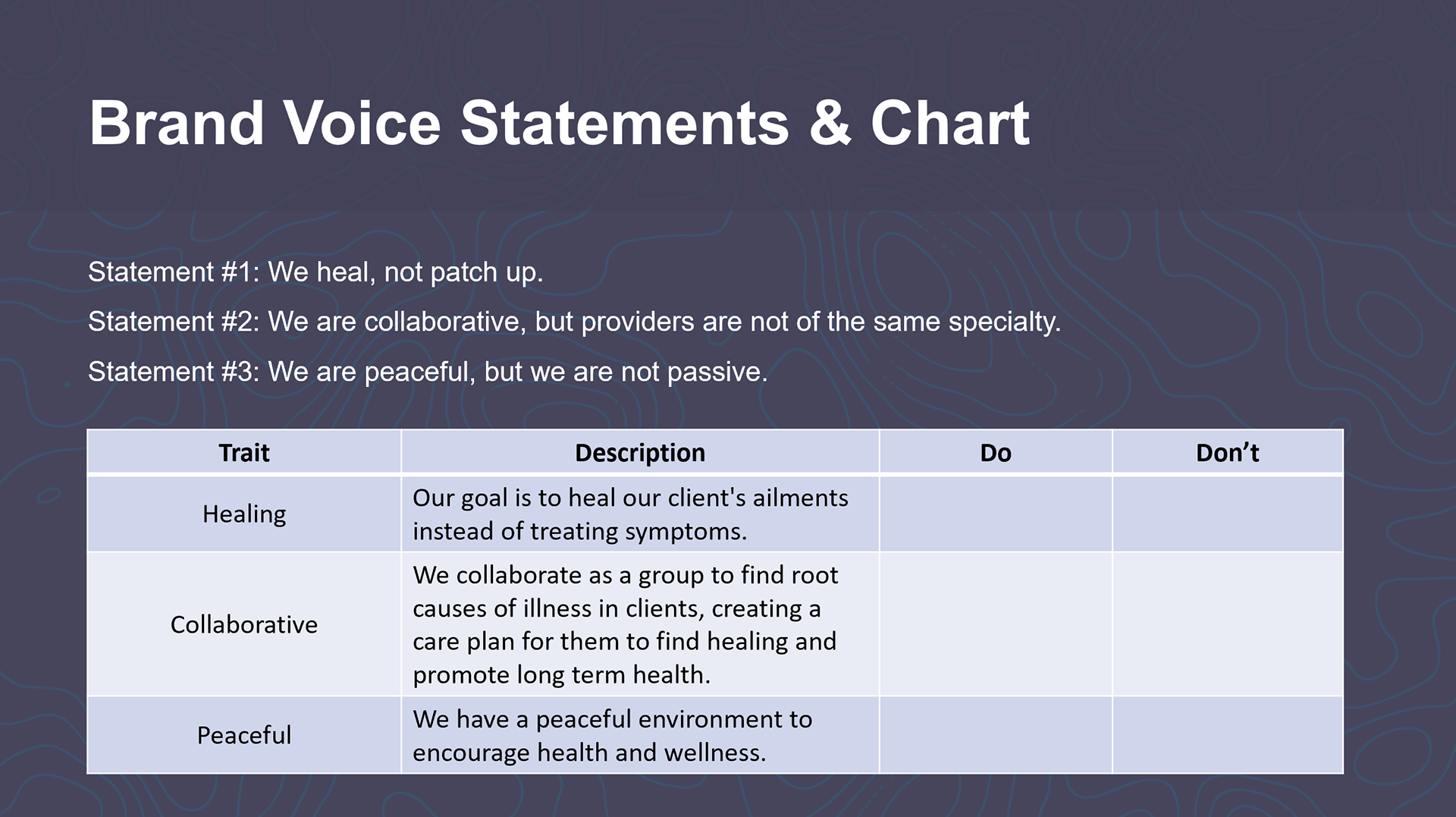 Marketing Plan:

Brand voice statement & traits
We also wrote out three specific brand statements to guide the voice of marketing content:

- We heal, not patch up.
- We are collaborative, but providers are not of the same specialty.
- We are peaceful, but we are not passive.

Project: Website site map

Using our client persona and brand voice statements, we designed the new site map and navigation for a more intuitive user experience and efficient reading and comprehension. We wanted a user to find the information they sought within 1-2 clicks, so we included action words, line breaks within submenu links, and provider names next to their specialty.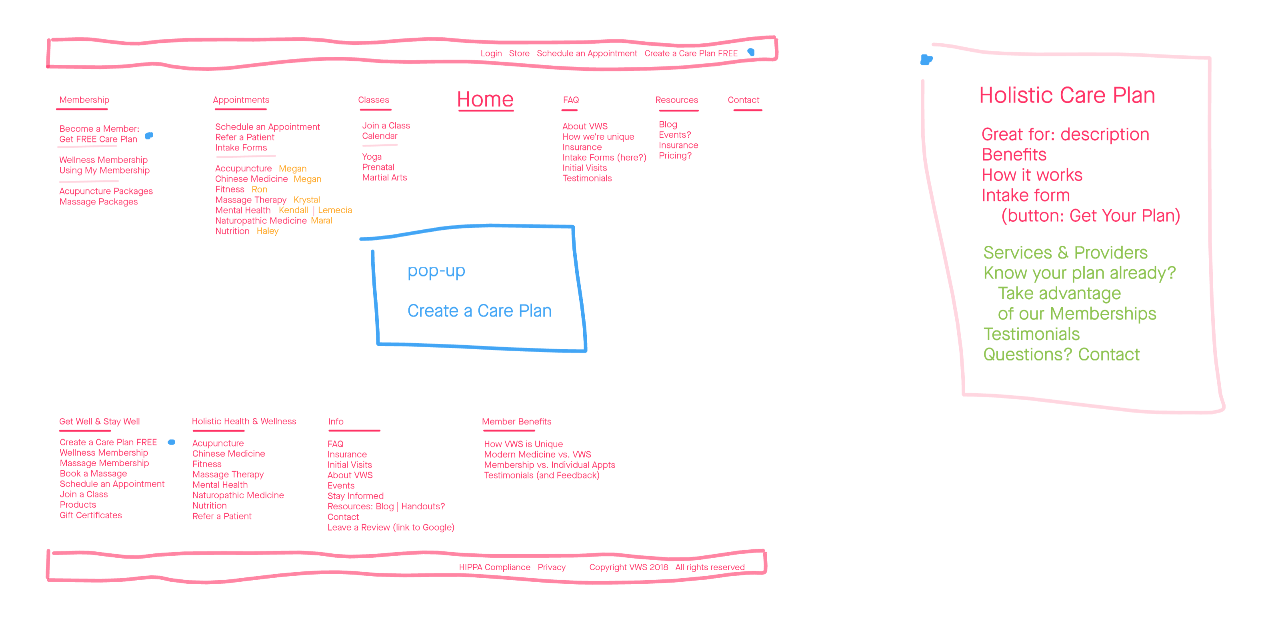 Marketing Campaign
Increase Membership Signups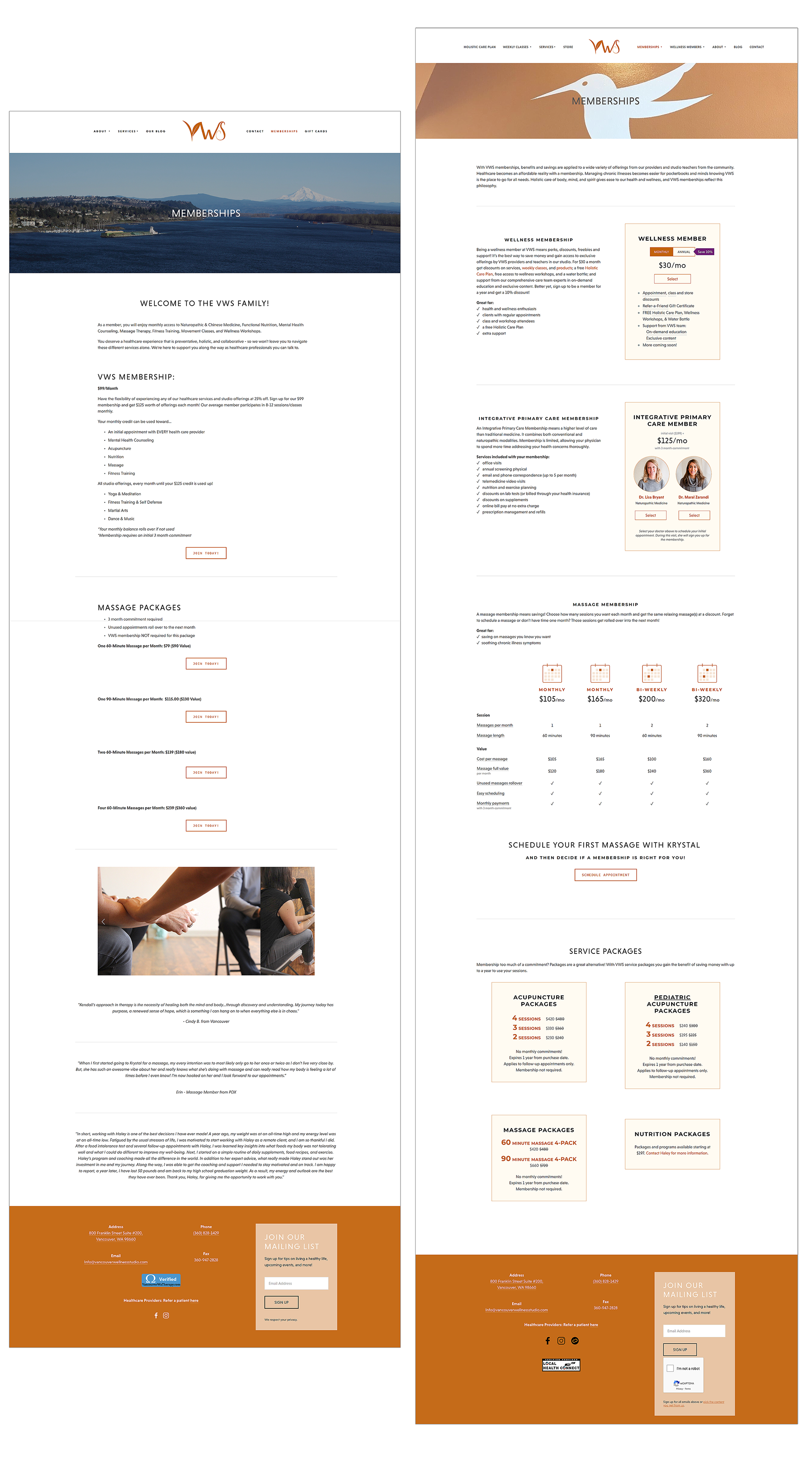 Benchmark: Previous year's data
- 22 membership signups
- 1.8 average signups per month
Marketing Plan: Online & in-studio advertising
- SMART goal of five new membership signups per month
- Goal to encourage signups through user-friendly UX and internal print and word-of-mouth promotions in the studio
- Add new membership options to meet client needs and demands
- Redesign membership webpage UX to better focus the message on signups and target organic keywords
- Promote on website announcement bar
- Advertise in online newsletter, posters in studio and offices, and reception price board
Project: Membership webpage redesign
- Design for efficient reading and comprehension
- Brand adherence: clean layout, consistent use of page layout, boxed content style, and check mark quick-read sections.
- Webpage and custom-coded signup boxes are responsive (60% traffic on phones)
- Copy rewrite that includes SEO keywords
- Relevant imagery, icons, and charts to boost viewer awareness in text-heavy content
Project: Online newsletter
- Refresh Mailchimp newsletter template to include membership in footer
- Rollout new memberships by announcing and advertising their value in newsletters within the first 1-2 months
Tracking the Goal: Analysis (over 7 months)
- 56 membership signups
- 3.9 average signups per month (goal of 5, 1.8 year before)
- 155% increase in membership signups
- 93% profit margin
- 4.2% website conversion rate
- a top webpage within the site